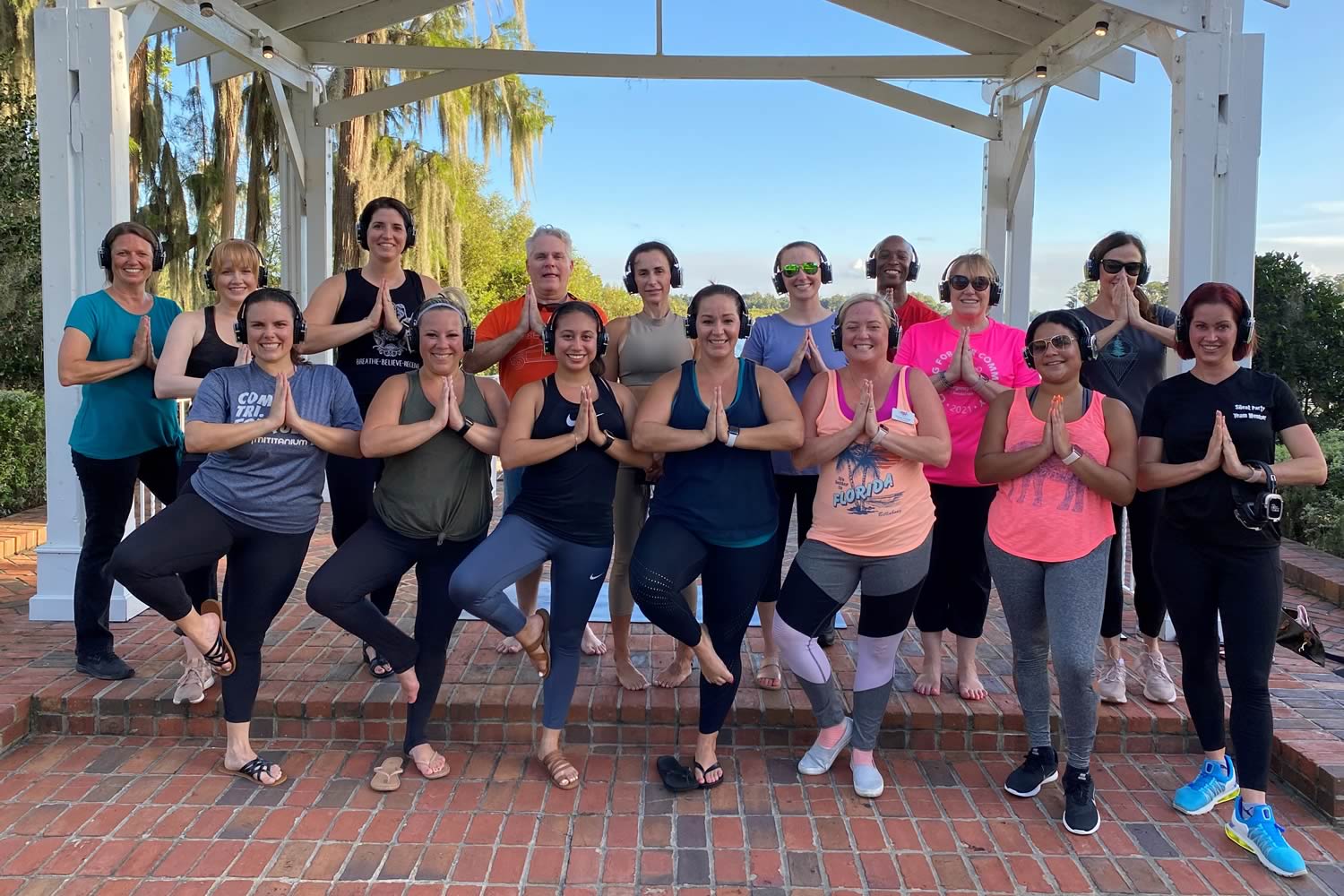 SOLUTION TO THE MENTAL HEALTH DELIMMA
The 2021 State of Mental Health in America report confirms that across the United States we are seeing higher levels of anxiety and depression than ever before. In addition to the loneliness and isolation brought on by the pandemic, we are feeling the stress from major economic impacts, particularly in the hospitality and tourism sectors. This stress can be felt at home, when going out to eat at restaurants that are over booked and understaffed or at just about any service-oriented business as companies and individuals try to adapt and find a way to survive.
That is why Silent Party USA recently partnered with Meeting Professionals International and CROW (Coordinated Response on Wellness) to offer an opportunity to: Reset, Recover and Revive. In a serene park setting overlooking a lake, each guest was given a headset and guided through a series of yoga moves for a Silent Yoga experience. The response was that with the headphones on, they felt more centered and less distracted. It really helped to deepen the practice and even if it was just for 30 minutes, forget all your cares.
Kristine Iverson, founder of CROW states, "A practice of yoga and or mindfulness can be a critical tool for our mental wellbeing. Whether we are connecting to ourselves through physical movement, a seated meditation or guided meditation, the purpose of the practice is to first and foremost connect back to ourselves. We often tend to look outside of ourselves for answers or direction. If we build a practice of mindfulness and trust ourselves, we can begin to access our internal compass which will alert us to our best path by noticing how we feel."
The Over the years we have found a wide range of uses for our Silent Party headphones which now include silent yoga, silent fitness classes and silent mediation. As we learn to adapt to life during and after the pandemic, more companies are beginning to see the importance of wellness programs and are implementing time for this very important component to support overall employee health. Silent Yoga/Meditation can and should be used for corporate events, meetings, and association gatherings as part of their overall wellness strategy. Silent Party USA offers a seamless solution with an easy-to-use system that can be shipped anywhere in the country for your next event.